(Shifter Undercover #1)
by

Milly Taiden
208 pages
Published December 13th 2016



More ordering options »


More ebook ordering options »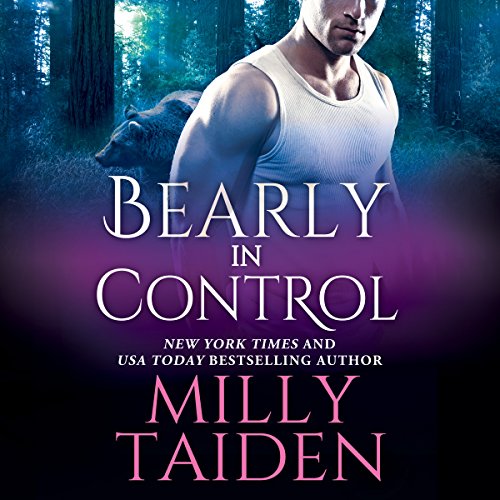 Bearly in Control (Shifter Undercover, #1)
For vet and animal whisperer Charli Avers, talking to bears
is all in a day's work. But when she finds a man—a very sexy,
very alpha man—where a bear ought to be, the wild comes
close to home. Charli is drawn to this mysterious stranger.
She wants to help him piece together the past he can't
remember—even if that means shedding her human
misgivings and embracing her more carnal desires.
After shifting from bear to man, Barry believes he's finally
found his mate. Now he just needs to find himself. He
doesn't know much about the animal within him, but his
human heart aches for Charli. She ignites his instincts to
protect her from all danger—including their electric attraction.
The stakes climb as Charli investigates the mystery behind
Barry's memory loss and how it may relate to strange
sightings and thefts in this little corner of Oregon. Without
answers, she may lose Barry—and herself—to the wild side forever.
Okay I love books by Milly. She writes the most interesting
books. This is a new series for her, and it is amazing. It is
well written and thought through. This is about a group of
shifters that have come together to work alongside with the
police. But without the knowledge that they are shifters of
This story is about agent Charli Avers the resident animal
whisperer, and Barry, a bear shifter who has lost his memory.
Chari is called out to examine a bear that has been caught,
but when she gets him back to her clinic the bear is gone and
a naked man is in his place.

The only thing Barry dose know
is that Charli is his; she makes the bear inside him go crazy,
Crazy with wanting to protect her. Charli is not a shifter but
has the ability to talk to animals, just by touching them. When
she touches the bear, one word blazes through her mind.
Mate. She not sure what to think at first, but as time passes
she and Barry find themselves being shot at. Although I think
Charli is in desperate need of police training as she takes a
while to put two and two together. But if they do not figure it
out soon, it may be to late.
Now before I ruin this for you I will leave off here. I hope you
enjoy this book as much as I did. If you do like this book,
please consider leaving a review. The Authors really like it
when you do; they value your opinions too.
Come by and visit Her She loves to meet new readers!
Website:
millytaiden.com
GIVEAWAY #2 - REVIEWS

Did you read Bearly in Control? Did you LOVE IT? Did you Review it? This giveaway is FOR YOU

Send your review link to pa.millytaiden@gmail.com

All links are entries for some signed copies of Bearly in Control. I have 8 copies waiting for winners.
If you send an AMAZON review, you get 2x the entries. So go on, send those reviews and enter now.