This book was amazing, funny, well written and most of all hot & sexy.
I got the book out of sequence, but that is ok they can be read as an stand alone book.
But I plan to read the first two books now. there is an overall story in the background
about the Libertine Scholar's which all the men belong to.
And the malicious person out to ruin all of them.
I loved this book and how lady Portia would not settle for any
other man than Gayson and his heart. Everyone wants that
kind of epic love. Trust me it is rare and happy I can say I
have that. I have to say Bronwen Evans certainly pulls you in
so you are so emotionally invested it breaks your heart to
when Portia feels she has lost him forever. I suggest you
have the tissues ready when she send him that letter to his
home. I cried I was so hurt for her. Now I have to stop here
as I do not want to ruin it for you. I suggest getting all three
books. I am off to get the other two now.I hope you enjoy this
If you do like this book, please consider leaving a review.
The Authors really like it when you do, they value your opinions too.

In the latest Disgraced Lords novel from USA Today
bestselling author Bronwen Evans, a vivacious thrill
seeker clashes with her dutiful defender—causing
irresistible sparks to fly.
Independent and high-spirited, Lady Portia Flagstaff has
never been afraid to take a risk, especially if it involves
excitement and danger. But this time, being kidnapped and
sold into an Arab harem is the outcome of one risk too many.
Now, in order to regain her freedom, she has to rely on the
deliciously packaged Grayson Devlin, Viscount Blackwood, a
man who despises her reckless ways—and stirs in her a
thirst for passion.
After losing his mother and two siblings in a carriage accident
years ago, Grayson Devlin promised Portia's dying brother
that he'd always watch over his wayward sister. But having to
travel to Egypt to rescue the foolhardy girl has made his
blood boil. Grayson already has his hands full trying to clear
his best friend and fellow Libertine Scholar of a crime he
didn't commit. Worse still, his dashing rescue has unleashed
an unforeseen and undesired consequence: marriage. Now
it's more than Portia he has to protect . . . it's his battered heart.
224 Pgs.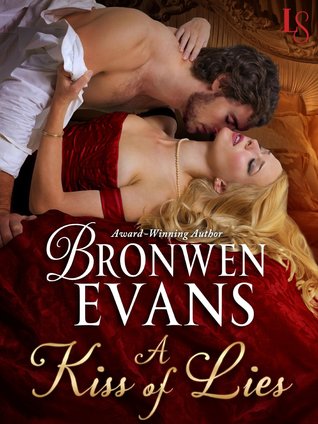 A Kiss of Lies (The Disgraced Lords, #1)
A Promise of More (The Disgraced Lords, #2)


USA Today bestselling author Bronwen Evans grew up loving
books. She has always indulged her love of storytelling and
is constantly gobbling up movies, books, and theater. Is it
any wonder she's a proud romance writer? Evans is a
two-time winner of the RomCon Readers' Crown and has
been nominated for an RT Reviewers' Choice Award. She
lives in Wellington, New Zealand.

Want to make sure you do not miss my post.

You can also follow me through my social media Links or

Kimmiesuesbookreview@gmail.com